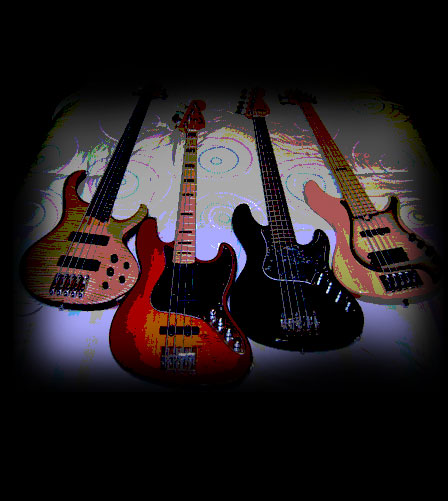 I began my musical journey by playing the trumpet in Elementary and Jr. High School. By the seventh grade I switched over to the Tuba, due to the fact that everyone else played the trumpet and there was a need for someone to play the Tuba. That is where I started and learned to love the foundation of the bass and how very important it was to music in general. I started playing the electric bass when I was 14 years old. I continued my musical journey at Suitland Sr. High School and at Prince Georges Community College.
I am also one of the founding fathers of the popular 80's Go-Go band Ayre Rayde. We played in and around the Washington, DC area for about 10 years. That is where I learned the essence of funk and the importance of locking in the groove with the drummer. I am also a managing partner and the bass guitarist for Phaze II, a six piece contemporary jazz band. Phaze II has been performing together in and around the Washington, DC area for about 15 years. Phaze II was also chosen the winners of the 2005 Capital Jazz Challenge Competition. This competition was held at the 13th Annual Capital Jazz Festival in Columbia, MD. This is one of the largest contemporary jazz festivals in the world.
I am also the bassist at Victory Temple Missionary Baptist Church in Alexandria, VA and St. Matthews Baptist Church in Washington, DC. In 2008 I also had the honor of playing for Pope Benedict. This was for a Mass held at Nationals Stadium with the Archdioceses Gospel Mass Choir. I have also had the privilege of performing and or recording with such artist as; Ayre Rayde, Phaze II, Soundproof, Ken Staton, Rob Maletick, KSO, Yvonne Johnson, Youthful Spirits, The JWRM Project, The Men for Christ, Keith Killgo, Corinthia Cromwell, Tyris, NexXzit, Vince Chapman, Greg Byrd, Glen Douglass, Ricky Wellman, Lori Jenaire, Dwight McNair, Miriam Wright, Sha' Summerlin, The J D Experience, James "Kelly Fox" Davis, Earl Johnson Jr., Redfootz & The Red Sessions, BK Jackson, Althea Rene, Lin Roundtree and the late Sam Smith along with countless others.
I would like to thank my loving parents Elbert & Mary Norton for all of your love and support. A very special thank you to my queen Ramona for being my number one fan! But most of all I thank my Lord and Savior Jesus Christ for blessing me with the privilege and the ability to make the beautiful sound of music! sound of music!